"This theme pushes the limits of what folks should expect from a WP directory."
– Ian Hollander, Owner at Karmic Consulting.THE ONLY END-TO-END WORDPRESS DIRECTORY SOLUTION ON THE PLANET!~ No Paid Plugins Needed. Everything Inside! ~

LEARN MORE – $69 ONLY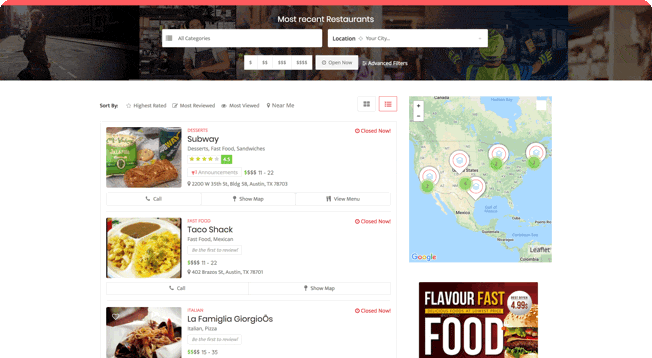 Gif (Mobile)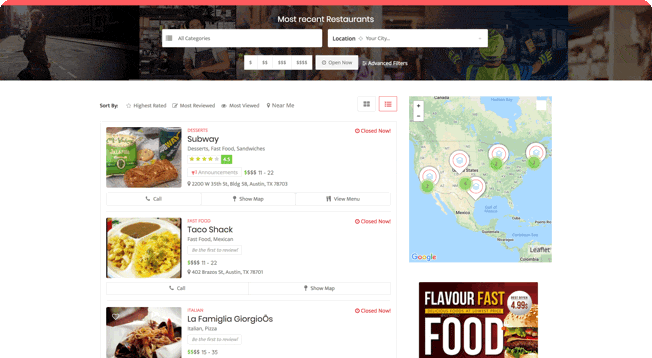 Gif (Desktop)



"This theme pushes the limits of what folks should expect from a WP directory."
– Ian Hollander, Owner at Karmic Consulting.THE ONLY END-TO-END WORDPRESS DIRECTORY SOLUTION ON THE PLANET!~ No Paid Plugins Needed. Everything Inside! ~

START DIRECTORY FOR $69 ONLY
Over 7,500 directories built-with ListingPro

Everything You Need to Build a Business Directory
Countless reason to choose ListingPro over any other WordPress directory theme or plugin.
Live Search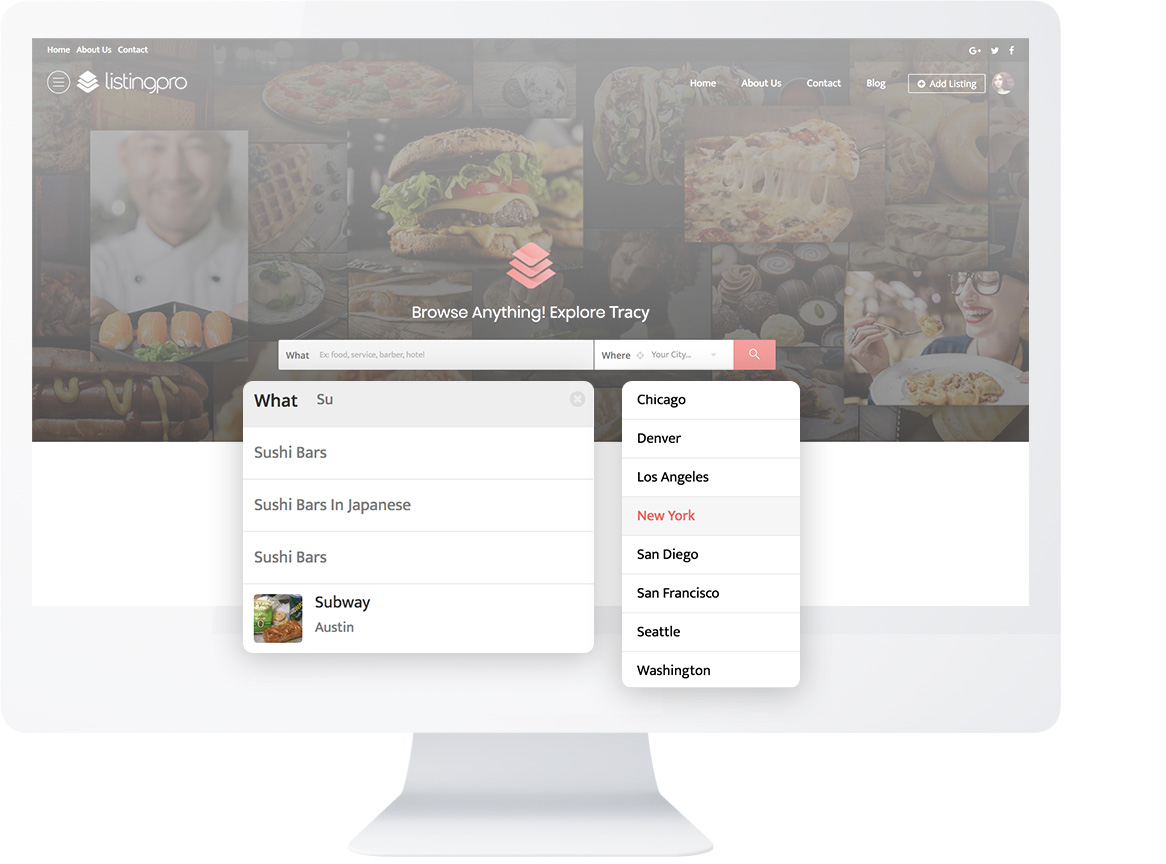 Smart Search
Ground-breaking live search algorithm works so intelligently that you don't have to have multiple fields for search. It can yield instant search results for title, category and tags. KEY FEATURESLocation with Google APAuto-locate by Geo IPLocate by GPS
Filter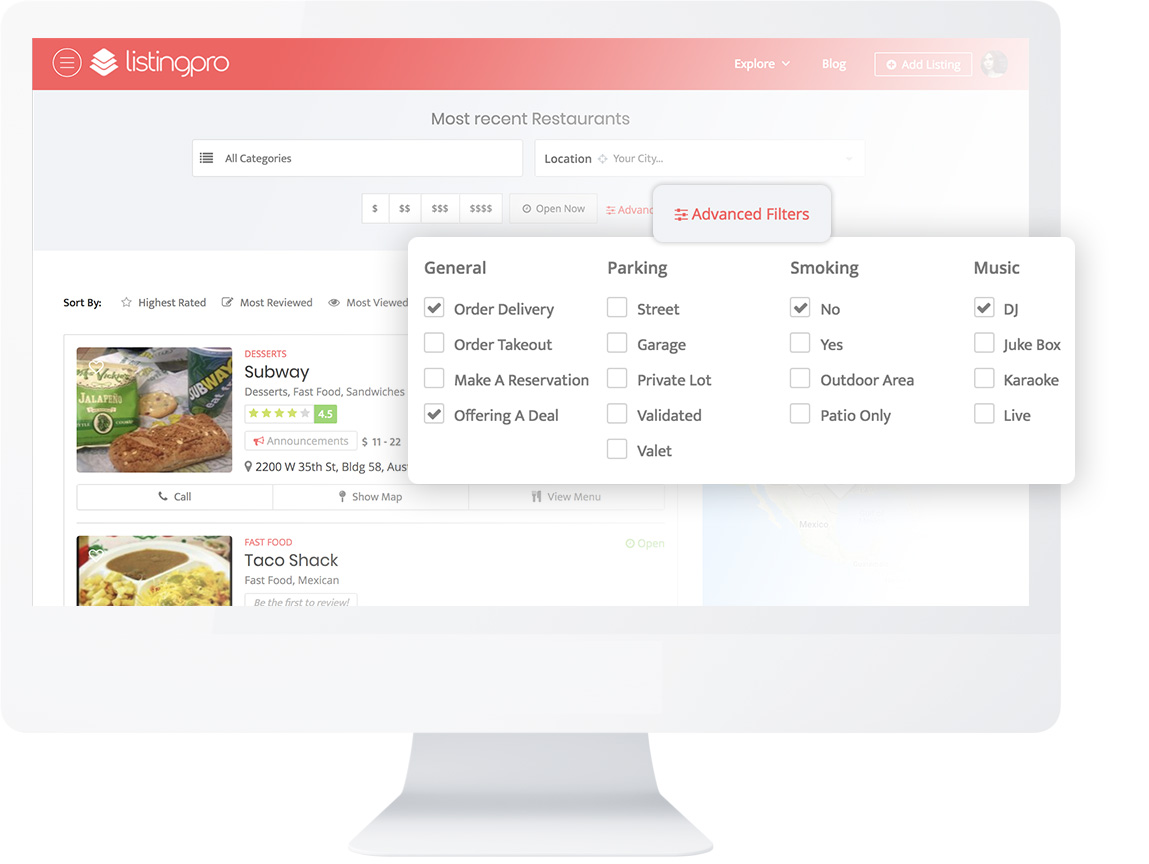 Advanced Filter
Users can easily narrow the search results with price, open now, near me (with distance range) and Features (Amenities). Now take the game to next-level by enabling Additional Details (Custom Fields)  KEY FEATURESNew UI Design & UXFilter by FeaturesFilter by Additional Details
[DRAFT]Free + Paid Pricing Plans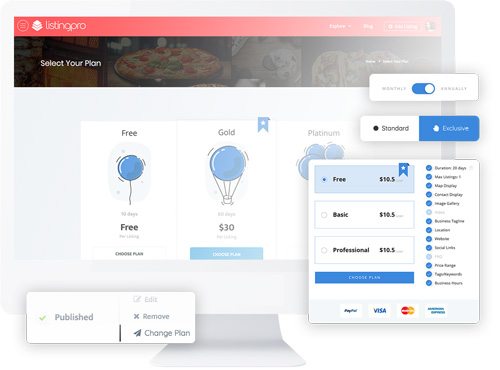 Pricing Plans
Business owners can signup for FREE or PAID plans to submit their listings and become a member. Site admin can make it mandatory for free members to upgrade (freemium) to a paid plan after the trial.KEY FEATURESNEW! Auto-Recurring with PayPal & StripeNEW! Offer Coupons to businesses to sign up.NEW! Category based Pricing Plans
[FINAL] Ads Campaign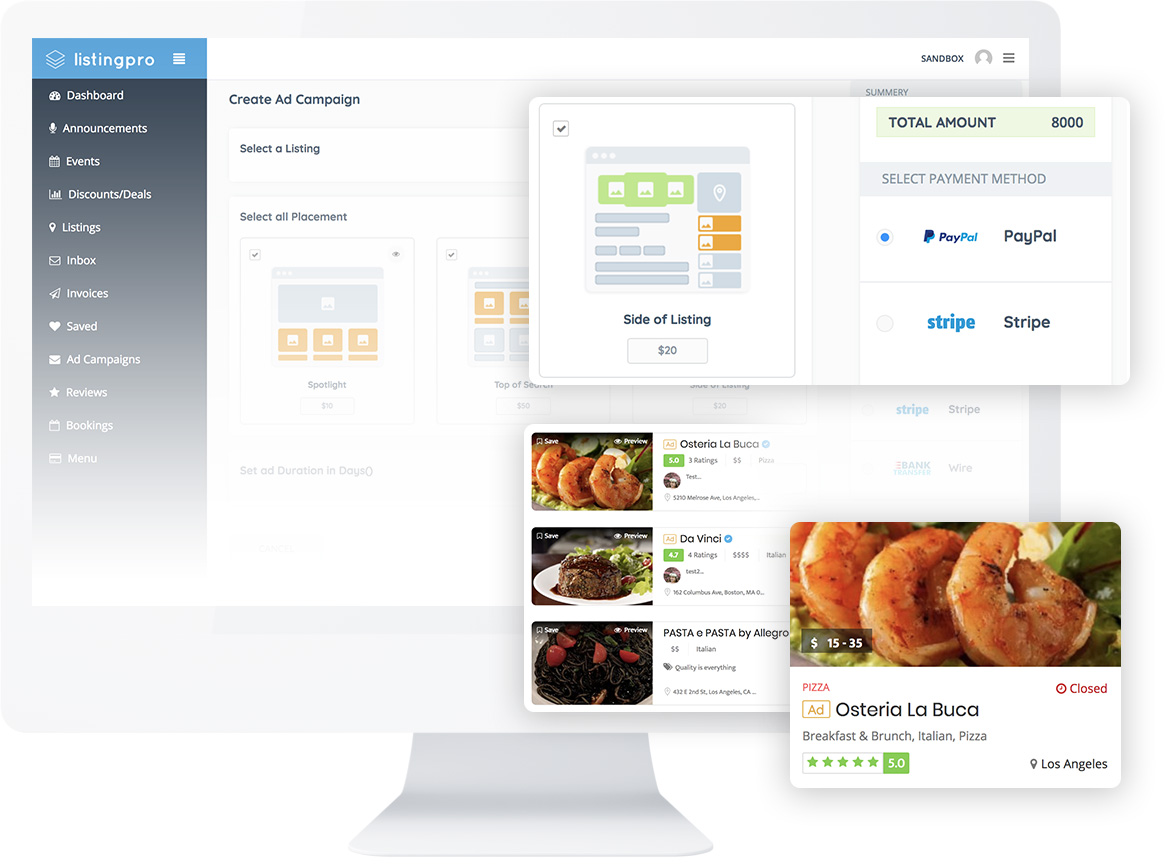 Ad Campaigns
Generate more leads with targeted ads to customers searching for a specific category, tag (keyword) or feature in a specific location with different placements to maximize the Return on Investment (ROI).KEY FEATURESNEW! Pay-Per Click (PPC) & Pay-Per Day (PPC) NEW! Restrict Competitor AdsTargeted Ads (Category, Tag/Keyword, Location)
[DRAFT] User Dashboard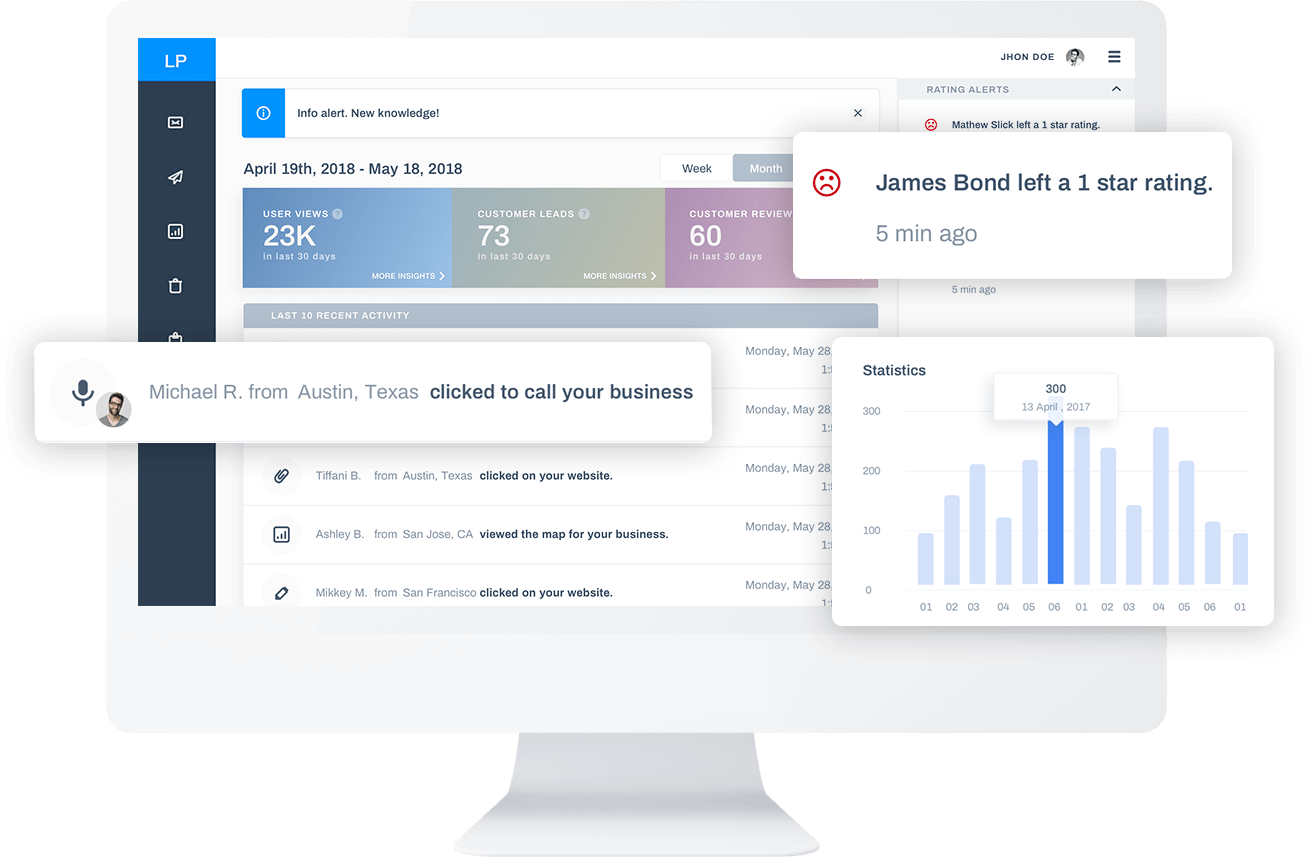 Dashboard for Business
A state-of-the-art User Interface (UI) for the dashboard. Carefully designed to do business with most useful insights from a single pane of glass.KEY BENEFITSView Daily, Weekly, Monthly or Yearly Statistics Get Low-Rating Alerts Manage Reviews, Leads, Events, Coupons, Menu, Ads etc.Internal messaging to capture leads and communicate with clients."The company is 100% focused on the directory concept and making the experience intuitive and user-friendly. Highly recommend!"

 Alex Grover, Owner at NorwegianJewelry.Shop.
Real Examples of What Others Built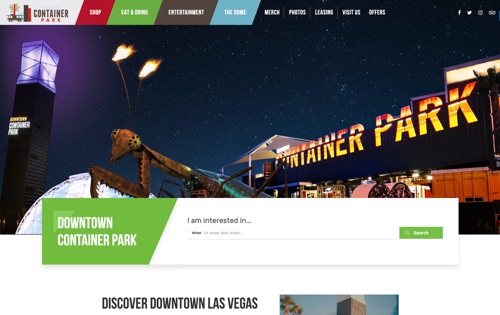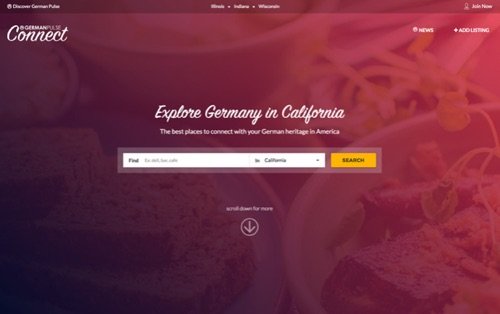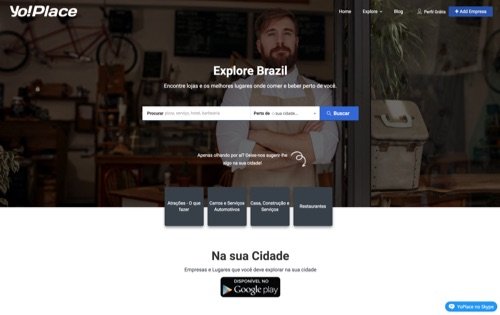 "We absolutely love ListingPro and the entire Cridio team! The theme may lack slightly in customization, but the theme, the team and their vision are amazing! This is their baby, and they have a lot planned it seems for the future…"Brian & Kim Jones – MyAmazingTown.com

"The guys behind the scenes are great; we often forget how busy support teams can sometimes get and especially following theme updates. It took some time to get there – but more important, we got there in the end…"David McCann – CryptoTakers.com

$69
Regular License

GET IT NOW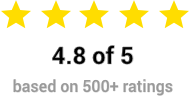 Still Not Sure? Let's Check What The Expert Thinks!
"I think ListingPro just has the best experience for listing owners. Nothing comes close."
Adam PreiserThe Founder of WPCrafter