Advanced User Dashboard
ListingPro offers the most user-centered dashboard for business owners.
Your users can now take full control of their business listing from a single most powerful front-end dashboard to help double your revenue.
Overview
Advanced Live Search
Users can find a listing extremely fast using a keyword, or select a keyword in a category or go to a listing right from the quick results.
Our Search works on these algorithms.
Search listings with title
Search Tags
Search Categories
Search Tags in Categories
If you want to do further filtering like selecting All Categories or Sub Categories you do it via the search result filter.
Advanced Instant Filter
In ListingPro 1.2.0 we have made a a lot of improvements in design and functionality. Design has been enhanced to save space and to be able to add more amazing feature such as Near Me.
Smart Filtering
Your users can easily filter the search results by choosing from the following options available:
Near Me NEW!
Distance Radius (Works with Near Me only.) NEW!
Price Group ()
Open (Status)
Sort by 

Best Match NEW!
Most Viewed NEW!
Most Reviewed
Highest Rated
Price Range

Categories
Features
This includes various facet types, including buttons, checkboxes, dropdowns, price range, sliders for proximity (geolocation). To find out how to enable or disable filter options read this. 
Next Level
With Features (aka Amenities) and now Additional Details (just added in 2.0 release) you can narrow down the search result further for a specific category. 

This brings even more flexibility while doing searches for specific activities that has multiple working groups.
Ads Management
Run an Ads Campaign Gain New Customers
Generate more leads with Targeted Advertising on many locations throughout the directory to maximize the result. From home page ads to listing details page, you got it all covered.
Here are 3 primary options to show the ads on the various locations.
Random Ads
Listing Detail Page Ads
Search and Taxonomy Ads
Targeted Advertising
Show your ads to customers searching for a specific category, tag (keyword) or feature in a specific location.
Maximize Eyeballs
The more eyeballs translate to high-conversion. Ads can be displayed on the home page above the fold, listing details sidebar and of course in the search result with organic results.
Checkout the full page dedicated for info on ads, go here.
Also see How to start an Ad Campaign?
Advanced Review & Rating
Make your visitors think twice before leaving less than 3 stars with our emoji (emotion-based) rating system and they can also vote on other reviews.
A customer can leave a rate & review with instant signup (with email) or by logging in (with email or social login)
A customer can upload images
A customer can vote (interesting, lol or love) on a comment. 
A Business owner can reply to review (once).
As per industry best practice, a business owner is not allowed to delete review (only site admin).
If a business owner gets 3 or less rating, the user dashboard has a dedicated section to alert. 
A customer (visitor) can edit their review anytime.
Auto-Locate (GeoLocation by GPS and IP)
Get accurate geolocation with GPS with allow-permission popups.
Get your geolocation instantly by using your IP without any permission popups.
Two Different IP API for GEO IP
geoip-db.com
ip-api.com
Please note that some times the location shown is not accurate as it may pick a distant wireless tower.
Checkout Process
We have a built-in Checkout process for purchasing Paid Plans to submit listing or for starting an Ad Campaign. You don't need WooCommerce.
Currently following payment gateways are supported.
PayPay
Stripe
2Checkout
Direct Payment / Wire Payment (Manual)
Payment Processing
Stripe, PayPal and 2Checkout (+Manual Wire Transfer)
Automated Recurring Payments
Manage Subscriptions
Smart Member Upgrades
Business owners can now receive and reply messages directly within the user-dashboard when a lead is generated via a lead form.
Booking Integration
We have integrated our theme with 2 best booking systems, TimeKit and Resurva. Here's the demo to show how the booking system works with both.
Bulk Import
ListingPro comes with a FREE add-on that works with WP All Import (Free Version). Steps to import are provided here.
Branding & Design
Build unique and professional directory websites with ListingPro. Whether you're just starting or a startup, you can easily and quickly customize design settings and upload your own logos and images to suite your brand and taste. You can change typography, color, logo, Images, Icons etc.
Ready to Blog
ListingPro comes ready to launch your blog as part of WordPress core features but it offers more unique styles to match your directory. 
Category Assignment
This is one of the most powerful features that allows you to assign Features (Amenities) to a specific category which later can be used in the filter to further narrow down the result. Categories can also be assigned to custom Form Fields (Additional Details).
Each category will have their own set of details, that highlights to your users about what each businesses has to offer within their specialities.
Also Additional Details brings more business competitivity wherein each business can ensure their strengths.
Custom Form Fields
Take your listing details page to whole another level with Custom Fields (aka Additional Details). Now you can associate each category with a unique set of additional information created using the custom Form Fields such as text field, radio button, check boxes, etc.
Claim & Verify Listing
The Claim Now on a business listing details page allows a user to establish the ownership by verifying with the site-admin. 
Once signed in, user can request to claim the listing by filling out the claim form and wait for the site-admin to review and approve.
Once successfully claimed, a business owner gets a Claimed badge.
Then only a business owner can update their business profile, respond to customer reviews, run ad campaigns to promote, receive new leads, etc.
Every business owner needs to go through this claim process to avoid the competition to abuse someone else business listing.
Drag & Drop Page Builder
ListingPro works with Visual Composer Drag & Drop Page builder. It includes several Visual Composer elements that can be used on the Non-Directory listing page such as Home, about us, contact us, etc. Visual Composer cannot be used to customize core directory pages. Those changes are handled from Theme Options.
Easy Setup Assistant
Get up an running in less than 5 minutes with Easy Assistant Wizard. It will help you install and activate all the required plugins and also give you option to import dummy content.
Email Management
Email Management Settings via Theme Options
Manage all email templates that are sent to users on an action taken or when a cron job is executed successfully. Here is the list of email templates included.
General Email Settings
Set email address and email sender name here
New Registered User
Submit Listing
New listing submit mail
Purchase Activated
Package / Pay per listing has been purchased
Approved Listing
Expired Listing
Expired Ad Campaign
Wire Invoice
Claim Listing ( submission )
Claim Listing ( Approval )
Campaign Activation(To ADMIN)
Campaign Activation(To Author)
Recurring Payment Reminder Email
Subscription Cancel Email
Lead Form Email Template
Front-End Submission
To help increase conversions we have carefully crafted the submission page by breaking it into sections and prioritizing fields order.
Enabling front-end listing submission by new users without signing in, which first allows the visitors to invest time in creating a listing and then preview it before paying to publish.
All Fields & Options
Quick Tip (Info Box)
Field/Section Infographics
----------------------------
Listing Name
Tag Line
Address

Google Address
Manual Address & Coordinates
Drop Pin

NEW!

City

Manual
Google Places Api
Multiple Cities

NEW!

 

Phone 
Website
----------------------------
Operational Hours
Category 
Multi-Categories

NEW!

 
Features (Amenities)
Custom Fields (Additional Details)
Price Group/Range 
Start Price & End Price
----------------------------
Description
FAQ
Social Accounts (Twitter, Facebook etc.)
Tags (Keywords)
Total Free 
Go Freemium (Force upgrade after free duration expires.)
Create & Preview first! Pay Later
FAQs
Your Business video (Optional)
Images for Gallery
Featured Image

NEW!

 
----------------------------
Email Field (For non-logged in user)
Terms & Condition checkbox.
Google Captcha
Flag & Report a Listing or a Comment
Flag a listing and it will be reported to admin for further review.
Now admin can verify if any businesses are running their listings inappropriately against Directory Terms & Conditions.
Users can flag inappropriate listings and then admin can take action more quickly to reduce hated listings, fake listings, etc.
Flag & Report a Comment
Flag a comment and it will be reported to admin for further review.

Now admin can verify if any comment was flagged as inappropriate in businesses listings inappropriately against Directory Terms & Conditions.
Users can flag inappropriate comments as well and then admin can take action more quickly to reduce hated comments, fake comments, inappropriate language, etc.
Grid & List View
Grid & List View redefined for the best experience. Every pixel has been considered during the grid/list view UI design phase as the goal is to display the most relevant information in limited space while providing the best UX.

With three unique stylish views, listing owners and end-users will more likely to enjoy and reading businesses details on each page as their go-to directory.
Invoice System
Invoice branding and content can be updated based on your requirements.
Your customers will have more security after buying plans and campaigns. This brings a closer experience like receipts after purchase.
Location (Google or Predefined)
Location with Google Places API. Use shortcodes to restrict locations for specific country.
Predefined Location
LeadGen/Contact form can be enabled to show on business listing allowing business owners generate potential leads. All leadgen forms are sent to business listing owner's email address.
Now even though having the geo-location available as default, end-users can also filter by nearby listings to give a better user experience while searching. This leverages, even more, the user's interest in whose looking for businesses with a pre-defined distance. Also, the nearby results can include the previously searched category or the entire directory and its businesses.
Nearby listings will appear on the listings details page. You have the option to select the distance of near by listings in relation to the current listing being viewed. You can also choose to only display the listing from the same category or leave it to display random listings. The coolest part is the distance will also be indicated.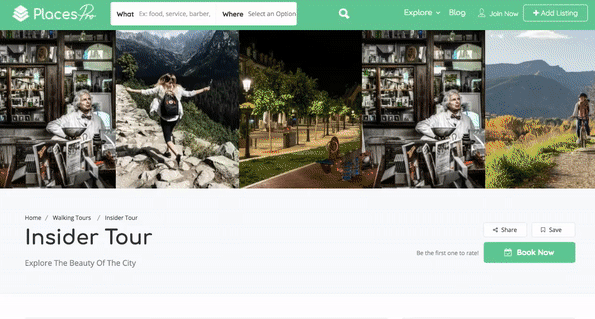 For us, Mobile User Experience (UX) wasn't just another checkbox. With the release of version 1.2 you will notice a huge improvement on mobile and this is the first step towards the mobile app like experience.
Create unlimited free and paid plans. Charge members for number of days, months, year! 
Freemium Plans (Force upgrade after free duration expires)
Premium Plan
Pay-Per Listing
Pay-Per Package
Auto-Recurring
Change/Upgrade Plan
Powerful Menu Management System (MMS) is included in ListingPro 2.0 which allows business owners to create their own menu with different Types (Ex. Breakfast, Lunch, Dinner) and Groups (Ex. Appetizer, Main Course, Desserts).
Share your business menu such as restaurant menu, auto-services price-chart, beauty and spa price chart etc. You can upload multiple pages of the menu in image format.
This option can also bring marketing offers, indicating discount prices to users that gets in contact with your business through the directory, and you can change strategies every time when needed.
The first Directory that works with a built-in Advertisement System. ListingPro brings even more flexibility when it comes to revenue and customer's branding exposure.
Submit Listing  
Built-in Ads Campaign

Random Ads
Listing Detail Page Ads
Search and Taxonomy Ads

Google Adsense

NEW!

 
Lead Generation Form 
Claim Process (Manual Process)
Booking Payments (via 3rd Party SaaS)
Home Banner Featured Listing (Manual Process)
Sleek collapsable business operational hours based on the listing geo-location, plus instant status such as:
Multi-Operational Hours (2nd Time Slot in a day) NEW!
Support for businesses open past 12 am (midnight) will be counted as same-day based on the business opening time.
Open Now Indicator
Closed Now Indicator
Day Off Indicator
24 Hours Indicator
Preview a listing details installing in a quick ajax window.
ListingPro comes integrated wit Nextend Social Login plugin for Facebook, Google & Twitter. You don't need any additional free or paid plugins.
ListingPro has been officially tested with Yoast SEO (Free Version) and it's our preferred SEO plugin.
Make things go viral by letting your visitors easily start sharing the business listing on their favorite social network.
Save and bookmark a listing have never been so easier. Once saved you can go to the user dashboard and find all the saved listing under the saved tab. This is a built-in feature and doesn't require any additional plugins.
Now you can protect all your forms from spam with Google ReCaptcha.
This makes things more easier. Protect everything in everywhere at once or by preferences. Admin can give to users and business the protection that they need. No worries about spam, bot responses, vote scripts, etc. With Google Recaptcha you're covered.
User Registeration
User Login
Listing Submission
Listing Edit
Lead Form
Review Form
Contact Page Form
Statistics are part of the intuitive User dashboard which gives insight into critical data points making this a single pain of glass for business owners.
For more details of the dashboard watch the following video.
On the home page give special credit to a business or feature it for a month as part of the home page banner. This could possibly turn into an additional option to monetize.
You can enable Tax (VAT) and update the Tax Rate based on your country.  A really important feature for countries that specify taxes to run a business with advertisements and online campaigns as SMBs (small and medium-sized business).
Admin can easily cover these costs with taxes and repass the cost to business owners. For some countries these taxes are obligated and both either agencies and businesses should provide a tax return.
ListingPro has been officially tested with Loco Translate (Free Version) and it's our preferred plugin to translate all the strings. 
There are several languages translated more than 50%. Please go to our github page for updated info on the languages. 
Enable video banner for providing unique experience to your visitors. 
It has never been so easier to level up your brand to the next level. Now you can not only tell with static images but also show with amazing business introduction that highlights passion, missions and values.