With so many online directory software options to choose from, it's understandable for you to feel overwhelmed. It already feels as though building an online directory already has its share of complexities and challenges. So adding to that by being presented with so many choices makes things even more difficult.
First of all, what is online directory software?
Online directory software is a tool for building and managing any sort of online directory or listing website. Common features usually include detailed contact listings, member listings, classifieds, events, map views, photo galleries, articles, and more. On a basic level, it should provide you with the following:
– Website hosting and professionally designed website templates
– Payment processor to accept and manage online payments
– Ability to easily manage online listings – create, edit, delete
– A database that automatically updates contacts
To help you, we've gone ahead and listed the most popular online directory software in the market.
#1: ListingPro
Pricing: $69
ListingPro is the best-selling end-to-end WordPress Directory Solution. In 2017, it was rated as the #1 Best Seller in Directory & Listings. It has earned 5-Star rating for customer support based on 150+ reviews. Since its launch, it has kick-started over 10,000+ directory start-ups.
ListingPro is the ONLY End-to-End WordPress Directory All-in-One Solution on the market. It's the #1 Best-Selling Product-Market Fit in the Directory & Listing category on ThemeForest. The core value proposition for ListingPro is simple, No Paid Plugins Needed, Everything Inside. Photos and videos on preview site are not included in the package.
#2: eDirectory
Pricing: $99 – $3,000
eDirectory software is a flexible application that can be customized for a directory of your choosing such as organization membership directory, business directory, or any type of listing you can imagine. It supports multiple listing levels and is fully customizable.
#3: Directory Engine
Pricing: $89 – $199
DirectoryEngine is a WordPress theme for building a highly-customized directory website that allows you to make money by charging for listing submissions and offering ad space.
#4: pHpMyDirectory
Pricing: $35 – $140
pHpMyDirectory helps you build and manage a powerful website with ease. Built using PHP and MySQL, phpMyDirectory can be used to create websites focused on a business directory, classifieds, link indexing and more.
#5: Ezydir
Pricing: $960
ezydir is a powerful directory software with multi-language support. It is an online business directory script used to create multiple types of directory websites, classified portal, and listing website. Some of its features include mobile apps, bulk import, and export., video galleries, maps geolocation, sponsor management.
#6: GoClixy
Pricing: $149 – $899
GoClixy is a ready-to-use online business directory software that is fully customizable, SEO optimized, easy to setup, and ideal for business directory listings and advertisements.
#7: Brilliant Directories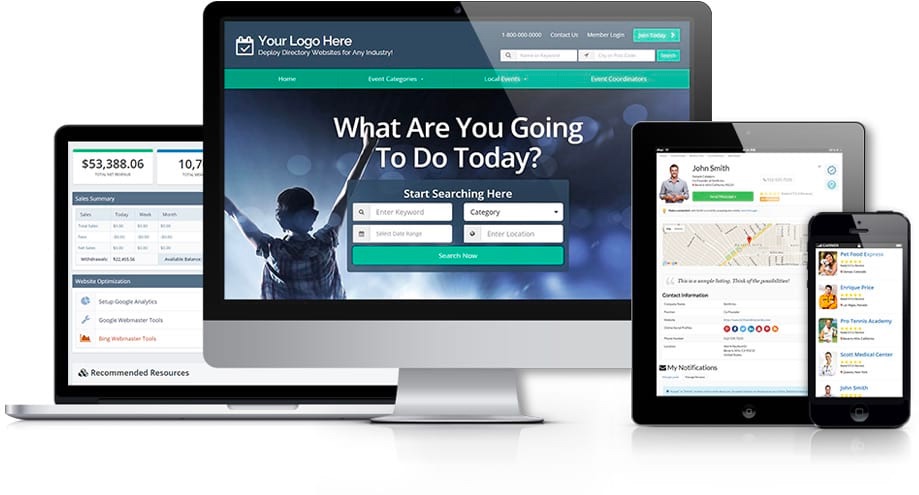 Pricing: $145 – $1,450
Brilliant Directories is one of the more popular directory software options. Used by over 10,000 organizations, their features include member management, payment processing, email marketing, lead-gen tools, and SEO tools.
Take note that we've listed the most popular. However, while the above mentioned may currently be the most familiar, it doesn't necessarily mean they are the best. If you want to talk about the best, then you must checkout ListingPro.