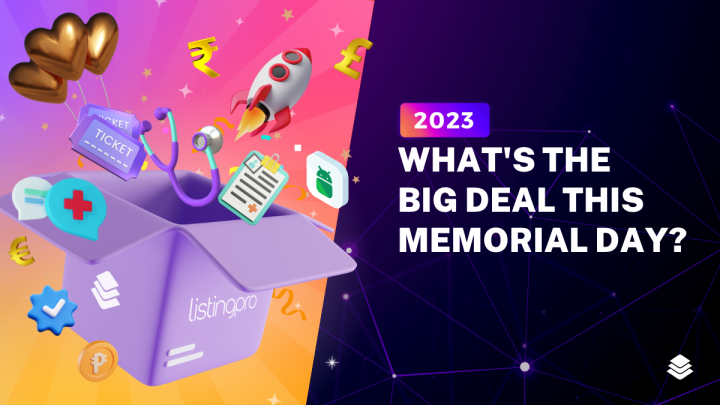 As Memorial Day approaches, we at Cridio Studio have prepared something truly special. This year, we honor the spirit of this day by presenting an offer that holds the potential to revolutionize the way you engage with our solution. Let us proudly introduce the Ultimate Pro Lifetime All Access Bundle – an exclusive comprehensive package that provides unrestricted access to all current and future premium add-ons when you purchase bulk licenses bundle.
Remember, this limited time Memorial Day offer not only includes lifetime updates and support but also brings the power of ListingPro at an unbeatable price. However, kindly note that the ListingPro license must be purchased separately from Envato.
Step into the World of Bundle Deal Worth More Than $5000 to More Than $100,000!
The Ultimate Pro Lifetime All Access Bundle gives access to several high-value add-ons, each meticulously designed to cater to a specific aspect of your ListingPro platform. From monetization to user experience, these add-ons work seamlessly together to create a comprehensive and efficient business ecosystem.
This incredible bundle includes:
MedicalPro Add-On (Worth $499): Transform your ListingPro platform into a dynamic doctor appointment portal.
EventPro Add-On (Worth $299): Create an all-inclusive events marketplace with ease.
Android for ListingPro (Worth $49): Facilitate on-the-go discovery and exploration of your listings.
Email BlasterPro (Worth $19): Supercharge your email marketing strategy.
VerifyPro (Worth $19): A reliable SMS OTP Verification Add-On for user authenticity.
QuotePro (Worth $19): Enable users to request a quote or a callback from multiple businesses with a single click.
Mollie (Worth $49): Monetize your directory across Europe.
Razorpay (Worth $19): Tailored for directory monetization in India.
PayU India (Worth $19): Further enables monetization in India.
PayFast (Worth $49): Facilitates monetization in South Africa.
Paystack (Worth $19): Perfect for monetization in Nigeria, Ghana, and South Africa.
EWAY (Worth $29): Monetize in Australia, New Zealand, Hong Kong, Singapore & Macau.
Mercadopago (Worth $29): Directory monetization across South America.
All Demos: Enjoy 7 one-click demos, including PetFinderPro, WeddingPro, LawyersPro, BlackPro, DrivePro, CBDPro, YellowPro, and more to come just a click away.
Schema for ListingPro: Auto Google structured data for site and listing enhancement.
Minify for ListingPro: Optimize your site performance by minifying Theme and Plugin's CSS and JS files.
Booking with TimeKit & Resurva: Enable third-party booking integration.
As part of this special Memorial Day offer, the Ultimate Pro Lifetime All Access Bundle is available for multiple websites at the following prices:
5 Websites – $249.00
10 Websites – $399.00
25 Websites – $499.00
50 Websites – $599.00
100 Websites – $699.00
However, don't forget these prices are for a limited time only and will increase soon. So act swiftly!
We would also like to highlight our PowerUp Add-Ons Bundles. Specifically designed for different regions – India, Europe, Africa, South America, and Oceania, these bundles ensure that you have the most suitable tools adapted to your region's specifics. By recognizing the unique needs of different regions, we strive to provide an enriched and personalized experience for all our users.
This Memorial Day, elevate your business with the Ultimate Pro Lifetime All Access Bundle and embark on a journey of growth with ListingPro. But remember, time is of the essence, so seize this golden opportunity before the price increases. If you have any queries, please feel free to reach out. We're always here to assist you.