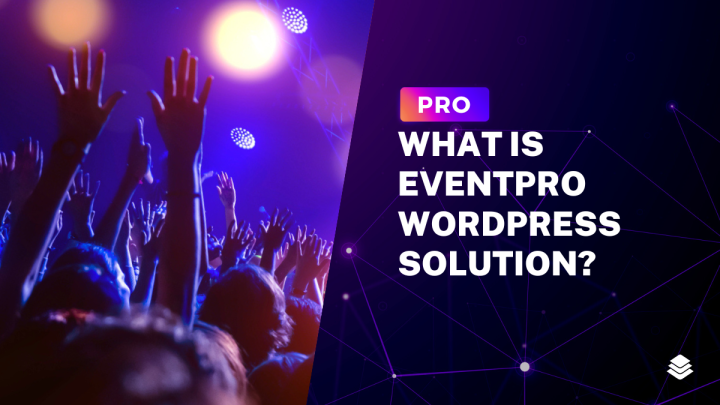 EventProWP is an end-to-end event WordPress solution. It can help you build an event marketplace for users to create online groups that host in-person and virtual events for people with similar interests. It enables users to host unlimited events and allows promoting them to interested members. The website admin can earn a commission on each ticket sold by the event organizer.
It's best for event organizers, entrepreneurs, and local businesses to organize free or paid live or online events such as meetups, workshops, boot camps, conferences, or classes.
Whether you plan to create an events marketplace for local niche markets, an online yoga class or a virtual event hosted in some metaverse.
Following are the two high-level topics to cover in this article.
🗓️ Events Management
There are a lot of building blocks when it comes to an events management platform. We have tried to make it as simple as possible with EventProWP.
Here are some of the features that will help you run an events platform like a pro.
Event Calendar
Display Full Events Calendar view or the list view with Map for visitors to filter and sign up for an upcoming event.
Event Submission Form
Users can sign up and submit events from their front-end dashboards without back-end access. Users can also edit or delete events after submission. To add a new event, the user must first create an Event Group. The site admin can also create and add events from the backend.
Recurring Events
Event organizers can now easily host repeated events whether it's daily, weekly, monthly, or annually.
Organize Events with Groups
Event organizers can create event groups that are like a virtual community where they can find people with similar interests. Events Group is a new post type introduced in EventProWP.
Host Online or Virtual Events
In addition to Live or In-Person events, users can organize Online or Virtual events such as meetups, conferences, workshops, etc.
Finding The Right Event Made Easy
Allow users to search for events by category, name, and location. Further users can filter by timeframes such as today, this week, this month, or even an exact date. In addition, users can choose to filter based on online events and upcoming events.
If users want to see what's happening nearest to them then they can hit the Near Me button and set the radius. Finally, the sort-by can help find the most popular event based on the most attendees.
Event Start and End Time with a Countdown
Event organizers can create an event with only a starting date and time. They can also choose to add the date and time when the event ends.
The built-in Time-to-Start countdown and a Time-to-End countdown can create a sense of urgency, which may help increase the conversion rate.
Display Attendees and Members
Publicly showing who is attending the events or who joined a group as a member, creates an experience that encourages people to interact more and build a more engaging community.
Broadcast Messages to Attendees
Any last-minute changes for the event such as venue location or timing can be broadcast to all attendees with just a few clicks.
Export Attendees List
Download the list of all the attendees in a CSV format to edit and print it for a live event for attendee registration.
Attendee-only Content
Show restricted info like online event links (ex. zoom) only to the attendees of the event.
EVENTS SUGGESTIONS BASED ON GEO-LOCATION
Showcase and promote events based on the user's geolocation to make it a personalized experience for each visitor.
Events Email Confirmation and Notifications
Notify attendees with a ticket purchase confirmation, and if they have joined a group then they will also stay in the loop regarding all newly added and upcoming events.
🎫 Ticketing System
EventProWP not only helps you build a marketplace to host events but also empowers event organizers to sell tickets and also easily verify at the events.
Collect RSVPs
Any logged-in user can easily RSVP to any event with a single click. The user will be added to the event's attendees list for the event organizer to further communicate.
Ticket Sales
Event organizers can add a ticket purchase option from their user dashboard when adding a new event. They can set the total limit on the number of tickets and set a price tag.
Ecommerce
Enable ticket sales with our built-in eCommerce system designed for online marketplaces without any complex setup process. It already comes integrated with Stripe, PayPal, and 2Checkout. There are more payment gateway add-ons available for different parts of the world.
Earn Commission
You can set any commission rate (fixed or percentage) and earn commission on every ticket sold for an online or live event. This is a great way to generate revenue.
Digital Wallet
Allow sellers to track their earnings from the digital wallet within their dashboard and narrow down results with filtering based on amount and date. Sellers can set their payout option and request to withdraw full or partial amounts of funds anytime. The admin can then process the payment and update the status to notify the seller.
Downloadable Tickets (QR Code)
Let guests download auto-generated event tickets with all the necessary details including a unique QR code for each event. The event organizers can then easily verify the purchase by scanning the QR code using almost any smartphone with a camera to check in the attendee.
Ticket Verification for Check-In (No App Download Required)
EventPro makes it super simple to create a page with a Ticket Verification form where the event organizers can verify and check in the attendee by entering the order number on the ticket. No app download is required for the attendee or the organizers.
Bulk Tickets purchase and registration
Guests can purchase tickets for themselves and for their friends and then fill out all their names and email for registration.
Link to External Tickets
If you already managing your ticket generation via third-party platforms like Eventbrite you can add multiple ticketing websites.
Ticket Stock Countdown
Increase conversions by showing the limited number of slots available for the event.
Ticket Purchase Email Confirmation
Notify the attendee with a ticket purchased email confirmation.
Ticket insights
Get access to all ticket invoices and track the ticket sales, available balance, earnings from commissions, and total withdrawals.
In conclusion, there are several popular event booking websites today and the idea of an online ticket marketplace is not new. But the good news is that the online event ticketing market size is currently valued at $50 billion as of 2021 and is growing fast. So still there is room for everyone to take a bite off the multiple-billion dollar market. If you want to help event organizers to promote and sell tickets for their events in a niche market then this tool has all that you're looking need! You can earn a commission on each ticket sold by them which means there are plenty of opportunities open up with no limit as to how many interested members join; plus it's easy enough even if you have no coding experience.
How to purchase eventproWP?
We offer two options for you to choose between. Please pick the one that's right for you.
OPTION 1: EventPro WordPress Theme (Stand-alone Recommended)
If you want to build an Event Marketplace only then you should pick option 1 which gives you EventPro WordPress Theme and the required plugin. This option doesn't require you to purchase anything else.
OPTION 2: EventPro Add-on for ListingPro WordPress Theme
If you want to build a directory website and also plan to extend it as an event marketplace then you should pick option 2 which gives you EventPro Add-on for ListingPro WordPress Theme and the required plugin. This option requires you to install ListingPro WordPress Theme first.