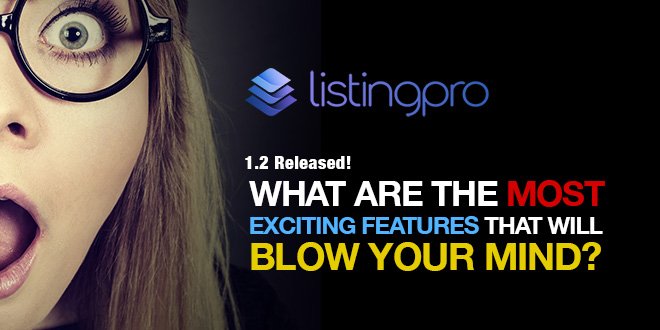 NOTE: Please also checkout the the following article – What's New in ListingPro 2.0? 
ListingPro is famous for regular updates. But 1.2 Release is a game changer, there have been many great new pain-killer features added, along with many enhancements and bug fixes across the board. For some of these new features, we only have to thank our customers to have used the Feature Bucket page and deliver incredible feedbacks for new upcoming ideas for ListingPro.
Most of them are a water divider, and we've selected some of the best updates ever released for ListingPro and what it represents to our customers and for the directory purpose in general.
Make your Listing Detail page unique with a builtin Drag & Drop Tool
Now ListingPro has its own drag and drop system that turns even faster the management and flexibility to reorder by your preference the Listing Details Page on your directory. Now you decide where you want certain results to be shown or disable them by your preference without complexities.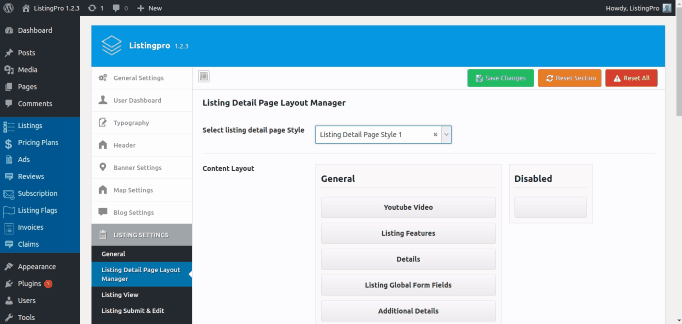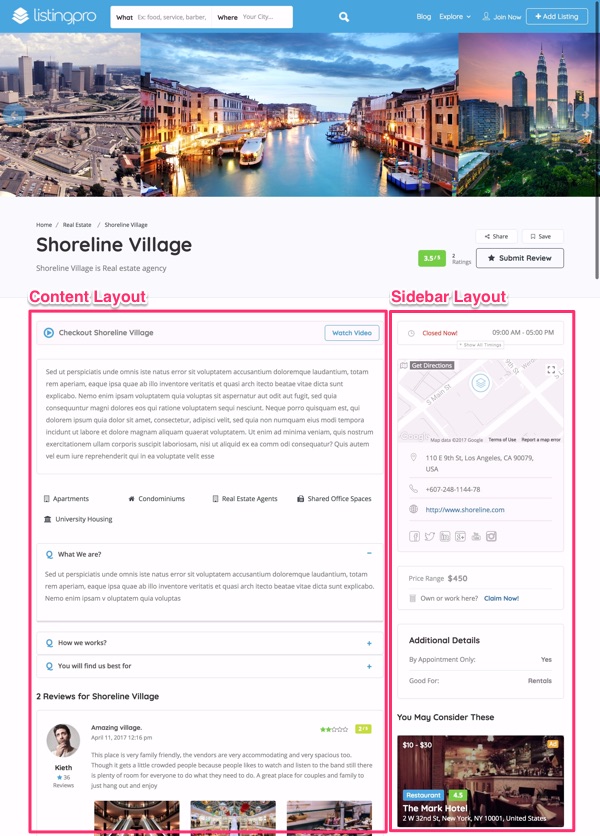 Multi-Operational Hours for 2 different shifts (Example Morning & Evening)
One of the most awaited featured as arrived in LisitngPro. Now you can even enable this option to give to your end-users the possibility to insert multiple hours during their working season. For some businesses, they have split hours during the week/weekend that would be necessary for visitors to know their scales before getting in contact or get directions to visit the local. Also, with Multi-Operational hour, we're also including the importance of lunchtime periods, seasonal weeks, events and others that may interfere directly with the business hours. As far as we know ListingPro is the only directory product currently available on the market that has Multi-Operational Hours. In addition, there are tones of enhancements to the time management system that addresses nearly 10 different scenarios, which will be covered as part of a separate article.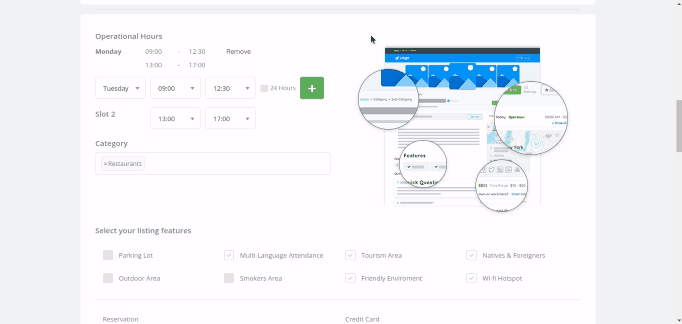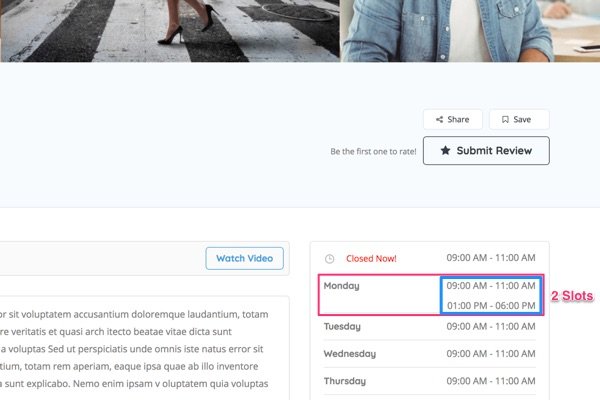 NearMe

narrow's search with nearest first, plus radius selector!
Now even though having the geo-location available as default, end-users can also filter by NearMe which shows listings nearest to you first. It also let you choose the exact distance with radius slider.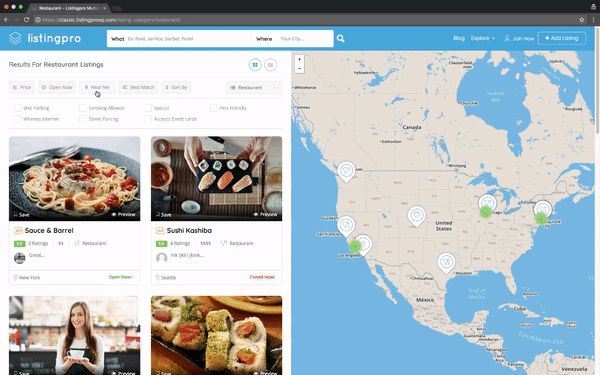 Suggested Nearby Listings
Nearby listings will appear on the listings details page. You have the option to select the distance of nearby listings in relation to the current listing being viewed. You can also choose to only display the listing from the same category or leave it to display random listings. The coolest part is the distance will also be indicated.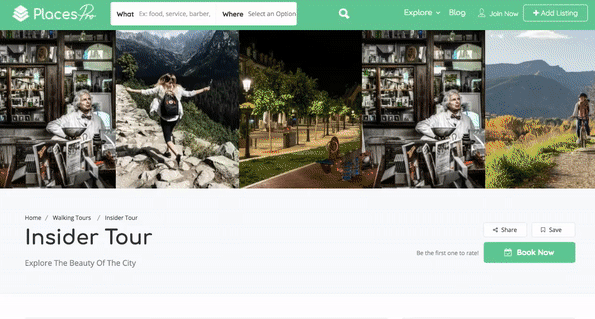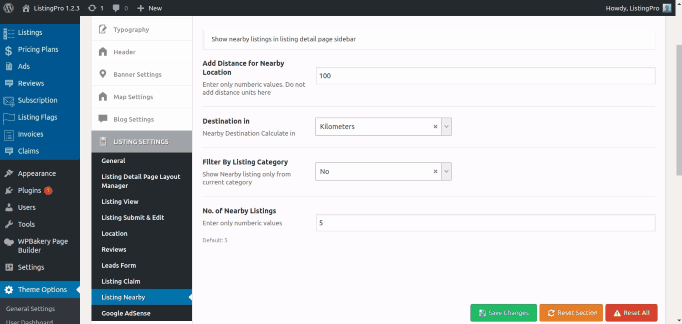 Call on Whatsapp! How Coool!
Even better to get in contact with businesses through their WhatsApp number. Now users can send messages directly and get a faster response and solve their doubts about their services, products or even before close a booking. This option brings more engagement between users and businesses without any agents in the middle that may cause delay or misunderstandings.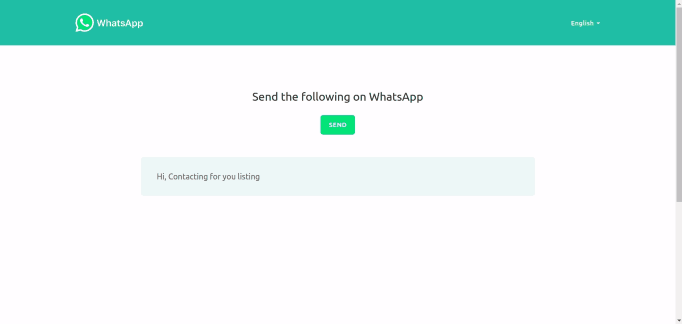 How about Multi-Location & Multi-Category
Now multiple businesses within a city or region can also be included with multiple locations. Also, some businesses offer multiple services and products that can be easily differed by its categories. For example, a bar can also have events with acoustic music or even DJs, and to include them into multiple categories, it got easier to register and submit the listing to the directory.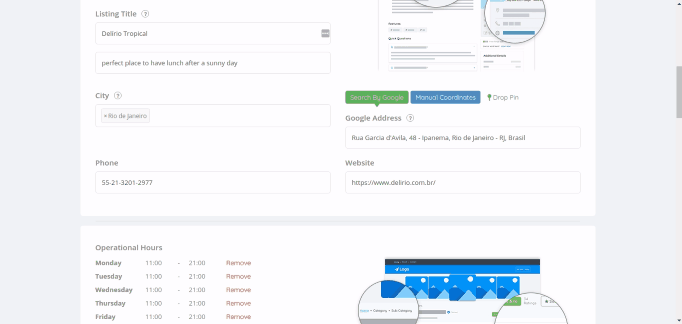 Last but not the least, Introducing…
Mobile X – Next-Gen Mobile Friendly User Experience
For us, Mobile User Experience (UX) wasn't just another checkbox. With the release of version 1.2 you will notice a huge improvement on mobile and this is the first step towards the mobile app like experience.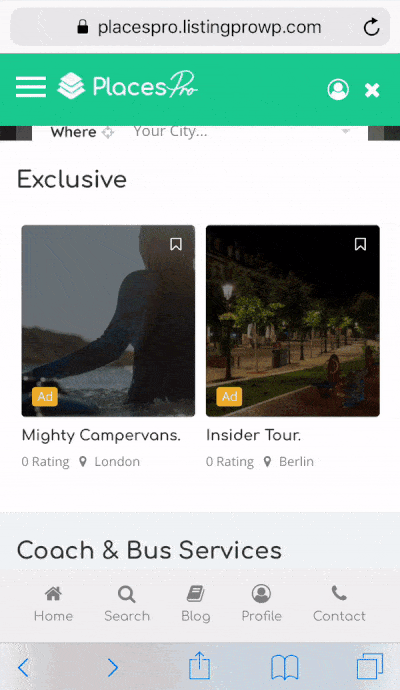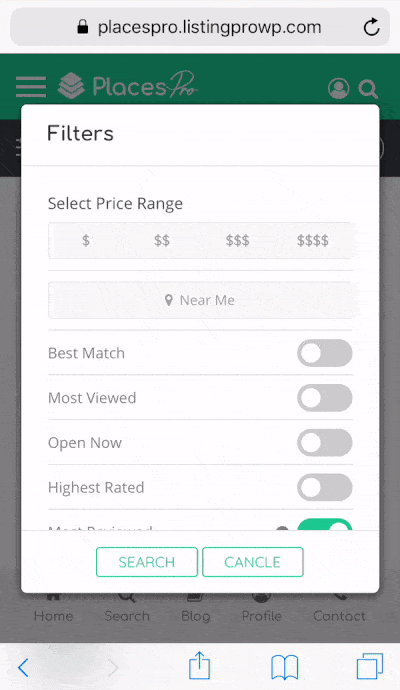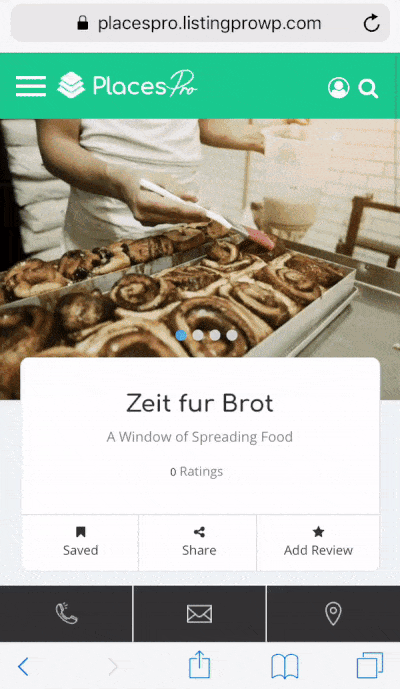 There are many amazing updates to cover, but this topic I wanted to mention only those that have increased even more flexibility and available options for users and admins to build an extraordinary directory with built-in functions.
There are more to come in upcoming versions. Stay tuned!
For details logs of the updates please go here.
Please leave your thoughts, comments, concerns, critique below. We are happy to hear from you.
Click here to take you to ListingPro Item Page on ThemeForest.